Item lists and Categories
June Items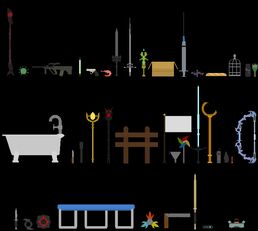 First Row

Fighting Staff, Virus Model, Assault Rifle (AUG), Glowstick, Tiny Pistol, Shrimp, Butterfly Sword, Silver Rapier, Gem Spectre, The Box, Massive Syringe, Aim Enhancer, Baguette, Birdcage, Bolt Bottle, and Broken Bottle.

Second Row

Bathtub, Carving Knife, Concuss Baton, Golden Staff, Doom Staff, Fence Segment, Flag, Funnel, Pinwheel, Jotun Sword, Moon Staff, Pipe Bomb, Pointy Rock, Replica Shell, and SoulStorm.

Third Row

Switchblade, Throwing Glaive, Tracker Drone, Trampoline, Trinity, Try Square, Tyrr Sword, Visibility Muffler, and Shock Mine
Triggers
From left to right
Button, Cloner Temp, Cloner, Detonator, Electricity Meter, Fire Detector, Left Rotator, Proximity, Remote, Right Rotator, Timer, Touch Trigger, Touch Untrigger, Trigger Feild, Trigger Relay, Trigger, Tripwire, Untrigger Field, Untrigger Relay, Untrigger.
Technology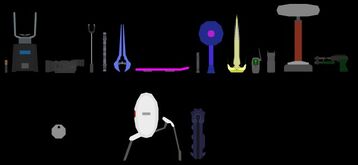 From top left to bottom right
First Row

Battery, Blender, Camera, Cattle Prod, Double Lightsaber, Energy Sword, Hoverboard, Lightsaber, Plasma Ball, Reverie Device, Scrambler, Stun Gun, Tesla Coil, and Tracer Gun.

Second Row

Powder Field, Turret, and Vortex Device
Regular Guns
From top to bottom
First Column

Sniper (S), Stinger SMG, Stockless Assault, Assault Rifle (AK), Assault Rifle (G), Assault Rifle (M), Auto-Revolver, Battle Rifle, Blunderbuss, Burst Pistol, Combat Shotgun, Corleone, and Desert Eagle.

Second Column

Devolver, Dillinger, Flame Thrower, Flintlock, Gatling Gun, Hand Cannon, Hunting Rifle, LMG, Lever Action Shotgun, Magnum, Marksman Rifle, Minigun, and Musket.

Third Column

Pepperbox Pistol, Pistol (1911), Pistol, Revolver, Rifle, Sawn-off Shotgun, Semi-Auto Pistol, Sequoia, Shotgun, Sniper, Submachine Gun, Tactical Pistol, Tactical SMG, and Tommy Gun.
Harmless Guns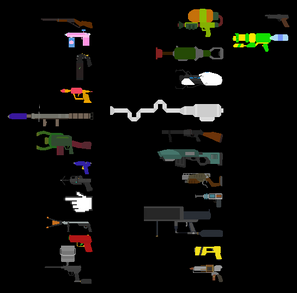 First Column

BB Gun, Bubble Gun, Concuss Spray, Disintegrating Ray, Firework Launcher, Food Gun, Glue Gun, Grapple Gun, Hand Gun, Net Gun, Ornament Gun, and Paint Gun.

Second Column

Paint Splatter, Plunger Gun, Portal Gun, Potato Gun, Riot Gun, Snare Launcher, Snowball Launcher, Stasis Gun, T-Shirt Cannon, Tazer, and Tesla.

Third Column

Tranquilizer Gun and Water Gun
Explosive Guns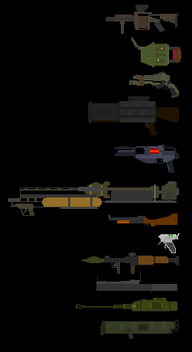 Names from Top To Bottom
Ares Handshake
Blast Pistol
Bomb Cannon
Disk Launcher
Fat Man
Grenade Launcher
Noisy Cricket
RPG Launcher
The Law
Tiny Tank Turret
Trizooka
Unconventional Guns
First Column

Acid Claw, Anti-Air Laser, Arc Cannon, Arc Sniper, Arc Storm, Auto Ripper, Backlash, Bass Cannon, Blaster Carbine, Blink Pistol, Cannon, Cyro Gun, and Disintegrator Pistol,

Second Column

Dragon's Breath, Euthanizer, Firespread, Flare Gun, Gauss Pistol, Grow Ray, Heavy Turret, Hive Cannon, Hot Sausage Gun, Ice Launcher, Lancer, Laser Pistol, and Laser

Third Column

Microwave Gun, Pulse Gun, Pulse Pistol, Shockwave Gun, Shrink Ray, Steampunker, Toxin Pistol, Toxin Sprayer, Twin Carbine, Twin Rifle, Twister SMG
Household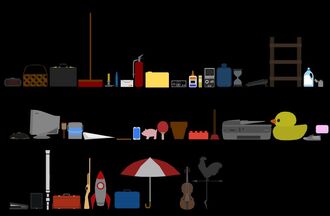 From left to right.
First Row

Alarm Clock, Basket, Briefcase, Brush, Candlestick, Crayon, Envelope, Fire Extinguisher, Folder, Game Controller, Glue Bottle, Glue Stick, Handheld Console, Hot Water Bottle, Hourglass, Keyboard, Ladder Segment, Laundry Bottle, and Lighter

Second Row.

Mouse, Old Monitor, Paint Brush, Paint, Bucket, Paper Airplane, Pencil, Phone, Piggy Bank, Ping Pong Paddle, Plant Pot, Plastic Brick, Plunger, Printer, Rubber Duck, Shoe, and Soap.

Third Row

Stapler, Tablet, Telescope, Toolbox, Toy Gun, Toy Rocket, Travel Briefcase, Umbrella, Violin, and Weather Vane.
Furniture
From Left to Right
First Row

Bed, Boxing Bag, Cauldron, Chair, Chest, Comfy Chair, Diner Stool, Door-o-Matic, and Microwave

Second Row

Couch, Monitor,Office Bin, Office Chair, and Plastic Table

Third Row

Door, Fridge, Potted Plant, Statue, Stepladder, Stool, Table, Television, and Toilet.

Fourth Row

Trash Bin, Trash Can, Vault Door, and Wardrobe.
Tools
First Row
Anvil, Army Shovel, Blacksmith Hammer, Crowbar, Cutting Pliers, File, Fret Saw, Gardening Scythe, Hammer, Harvest Scythe, Lawnmower Blade, Mining Pickaxe, Old Hammer, Pipe Wrench, Power Drill, Scissors, Screwdriver, Shovel, Sledgehammer, Snow Shovel, and Straight Razor.
Second Row
Not Pictured
Containers
From left to right. Each container has a Tankard in it so show its containing. and then that Tankard has a smaller Tankard in it.
Box
Cardboard Box
Open Dumpster
Plastic Barrel
Tankard
Telephone Booth
Wheelbarrow
Wooden Barrel
Sports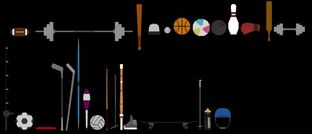 First Row

American Football, Barbell, Baseball Bat, Baseball Cap, Baseball, Basketball, Beachball, Bowling Ball, Bowling Pin, Boxing Glove, Cricket Bat, and Dumbell.

Second Row

Fishing Row, Football, Frisbee, Golf Club, Hockey Stick, Javelin, Juggling Club, Netball, Pool Cue, Putter, Shinai, Skate, Skateboard, Ski Stick, Sports Bottle, and Stunt Helmet
Miscellaneous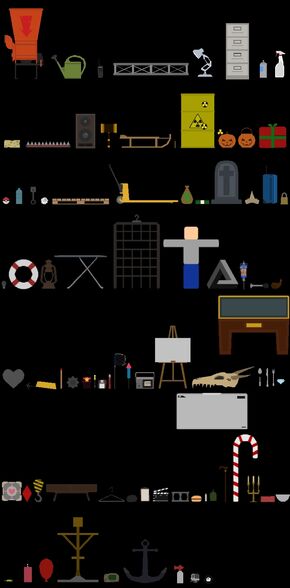 First Row

Woodchipper, Watering Can, Walkie Talkie, Truss Beam, Table Lamp, Storage Cabinet, Spray Can, and Spray Bottle

Second Row

Sponge, Spike Strip, Speaker, Smith Hammer, Sled, Replica Bullet, Radioactive Barrel, Pumpkin, Pumpkin Basket, and Present

Third Row

Pocket Ball, Plastic Bottle, Piston, Paper Ball, Pallet, Pallet Jack, Money Sack, Money Pack, Memorial Tombstone, Megalodon Tooth, Luggage, and Lock

Fourth Row

Lightbulb, Life Bouy, Lantern, Ironing Board, Iron Cage, Inflatable Decoy, Impossible Triangle, Hypo Needle, Honker Horn, and Hide Canteen

Fifth Row

Heart, Grapple, Gold Bar, Giant Match, Gear, Garnet Gauntlet, Fountain Pen, Floppy Disk, Flare, Fishing Net, Firework, Electro Sapper, Easel, Dragon Skull, Display Case, Dinner Spoon, Dinner Knife, Dinner Fork, Diamond and Decoration (not pictured)

Sixth Row

Cube, Crystal, Crane Hook, Coffee table, Coathanger, Coal, Clipboard, Clapperboard, Cinderblock, Chest Freezer, Cheeseburger, Chalk, Canteen, Cane, Candy Cane Pole, Candlebra, Brick, and Bowl

Seventh Row

Blowdart, Blazing Candle, Balloon, Armor Stand, Arm Computer, Anchor, Airhorn, Action Camera, and 8-Ball
Ad blocker interference detected!
Wikia is a free-to-use site that makes money from advertising. We have a modified experience for viewers using ad blockers

Wikia is not accessible if you've made further modifications. Remove the custom ad blocker rule(s) and the page will load as expected.